I think that this sunny spinach pie is wonderful!!! Yes…yes….wonderful is the right word for it. But it is also really tasty and inviting and it is not difficult to prepare. Follow my instructions…I'll teach you how to make it.
RICETTA IN ITALIANO QUI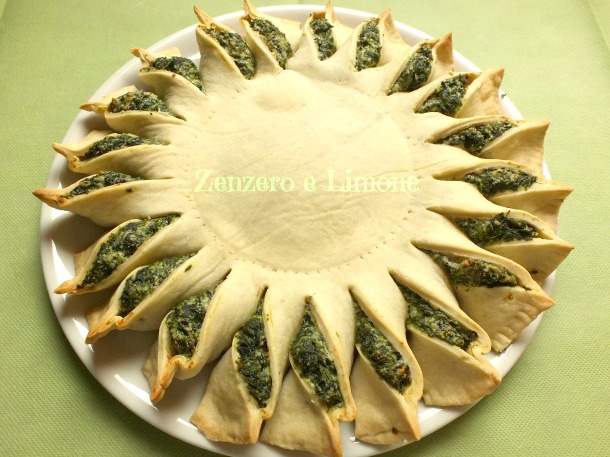 SUNNY SPINACH PIE
INGREDIENTS
For the dough:
500 g of flour 0
90 ml of extra vergin olive oil
200 ml of warm dry white wine
1 table spoon of salt
For the stuffing:
350 g of boiled spinach
350 g of ricotta cheese
1 egg
100 g of grated Parmesan cheese
salt and pepper
breadcrumbs
Let's start from the DOUGH.
Put all the ingredients in a mixer.
Mix them until the dough becomes uniform. (It is possible to mix by hand, too).
Cover it with clingfilm while you prepare the stuffing.
Squeeze the boiled spinach in order to eliminate the water. Cut it with a knife, then mix it with the ricotta cheese.
Add the egg, the grated Parmesan cheese, a generous pinch of fine sea salt and pepper.
Combine all ingredients very well.
Now divide the dough in two parts.
Create two circles of about 30 cm using a rolling-pin.
Place the first circle of dough on a baking paper and spread some breadcrumbs on it.
Put part of the stuffing in the centre of the circle and form another circle with the rest of the stuffing as you can see in the photos.
Spread some Parmesan cheese on the stuffing.
Now cover with the second circle of dough.
Seal the borders of the two circles using a fork.
Place a small bowl on the centre of the sunny spinach pie and press lightly.  Prickle with a fork all around.
Cut the external border in 2 cm slices using a sharp knife.
Turn each slice upside.
Do the same with all the slices.
Preheat oven to 180° and then bake the sunny spinach pie for about 30 minutes.
---
If you want to follow me on facebook click HERE and then put I LIKE on my fanpage. Thank you!  And HERE for Twitter!