CLICCARE QUI PER LA RICETTA IN ITALIANO
I love chocolate. I love brownies.
Be suspicious of people that don't love chocolate and nutella. They are lying.
They are on a diet or they just don't want to put on weight.
(just kidding, don't take me too seriously :P)
I love brownies, I think they are the best chocolate cakes in the world. Inside them chocolate's flavour is intensified and somehow "glorified", while in some cakes chocolate is just "one ingredient" among other ingredients.
I have tried to give them a nice heart-shape, which is perfect for a romantic dinner (for example Valentine's day or an anniversary) and also for kids.
Usually brownies are cooked in a single baking tray and cutted into little squares, but they look more rustic. This way you will have perfect and flawless treats.
They still have all the brownies features: cracked and crunchy surface, soft and buttery half-cooked inside.
The cooking time is really important, because they should not stay in the oven too much (to preserve the mellow heart). When the surface starts to crack and become paler they are done.
If you wanna have a look to other brownies recipes just follow these links:
In english:
Milka brownie cake with toffee and hazelnuts
In italian (translations will come sooner or later :P)
Brownies con ganache al cioccolato (sorry for the bad quality of photos, I had a very old mobile phone)
Muffin brownies con copertura croccante al cocco
Sandwich di Brownies
Torta brownie al caffè cremosa

Ingredients for 10 Heart shaped brownies:
200 g dark chocolate
160 g  butter
200 g cane sugar
4 eggs
4 tablespoon of flour full to the brim
vanillina (which is a sort of vanilla in powder)
sliced almonds (we buy them already cutted into thin slices here in italy)
How-to: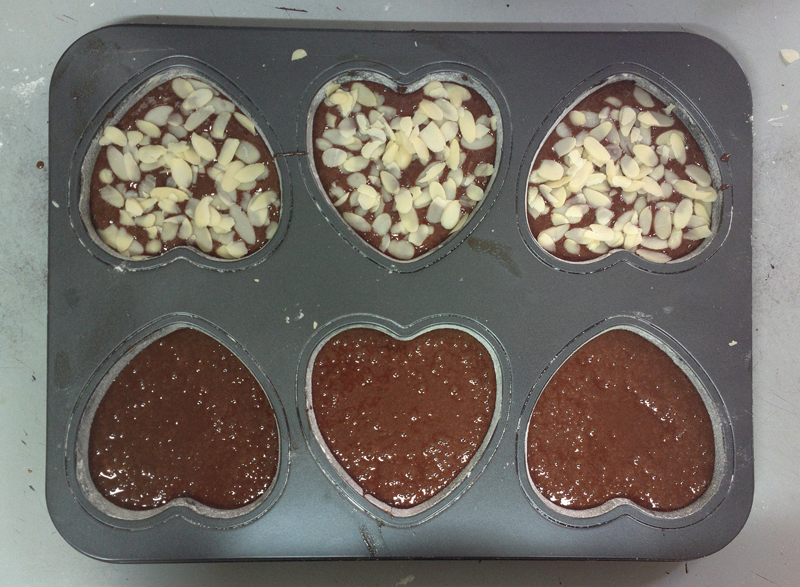 In the microwave melt butter with chocolate, using the 30 seconds tecnique. Let them cool.
Beat eggs with sugar until they are pale and foamy, then add slowly butter and chocolate, still whipping.
Add flour and vanilla mixed together, beating slowly so the gluten doesn't develop.
Pour the dough inside 10 heart shaped mould, which you have earlier greased. You can leave 5 brownies "au naturelle" and you can spread the almonds on the other 5.
Place in a preheated oven (180°) for about 15/20 minutes, cooking time depends from the oven and the mould.
The brownies are ready when the surface starts to crack.
Wait the brownies to cool down before you pull out them of the tray. Pay attention because they are really fragile, especially the thin surface.