CLICCARE QUI PER LA RICETTA IN ITALIANO
Ok…this is a weird idea…I know.
This is a dedication post, the first one I'm writing (and maybe the only one ahaha)
The V doesn't stand for Valentina which is "accidentally" my name, stands for Vintersorg instead, my favourite singer, artist, musician. I took the gothic look of the V-letter from the band logo, which is really beautiful in my opinion.
I did this cake for Andreas' birthday, in art Vintersorg, as you can easily understand, which is today, 17 November. XD
I did this cake to celebrate this birthday with him and my internet family – The ultimate metal forum friends.
With this post I would like to thank all the guys of the UMF for being the wonderful persons they are!
A big thanks goes especially to Vivi and Dany for keeping the secret about this insane plan and giving me suggestions ("to be or not to be?" or better…. "to put galaxies or not to put galaxies?")!!!
But the biggest thanks goes surely to Andreas, a person that has changed my life (but I dare to say OUR LIVES)  so deeply that he cannot probably understand, for spending his precious time talking with us, for keeping us always updated about all the news, and making us feeling welcome and a family!
I am here in Italy, and you Andreas in Sweden, while you guys are all over the world, so it's really impossibile to send you a real cake, so this is my virtual cake, my virtual present for you! Let's celebrate our personal crazy internet party with our virtual V-shaped cake!
Who brings the beer?
Hope you will enjoy it!
Happy birthday Andreas!!!
This is a really serious business (I took hours to prepare it!), but it's also a joke!
I bet everyone of you, my V-friends, is smiling right now looking at this cake, if I know  you well! I wish I was there to see your faces and reactions 😛
This will become a piece of my looong V-collection, even if I had it in my hands only for one night 😛
As you can see from the pictures in the How-to section I drawed a basic picture by hand ( I had to change some things, because pastry isn't really an easy material to work with.
I had to draw a thicker V so I could build up some borders to contain the Nutella filling) I cutted it, and copied it on the pastry. The result was quite realistic!
Sadly during the baking some details got lost, because shortcrust pastry contains a lot of butter and tends to expand a little bit with heat, so the central vertical line got attached to the V.
Sorry about that!
The caramelized galaxies/nebulas matter: I did this sort of cosmic decoration in Vintersorg style on a baking sheet. They looked just fine on a white background, but when I put them of the Nutella background, which is brown, I wasn't sure it worked, if I liked them or not. Caramelized sugar is quite transparent so you can see through it and it doesn't shine on Nutella like on a bright paper.
That's why I did some photos with sugar decorations and some without. I'm still not sure which version I prefer best.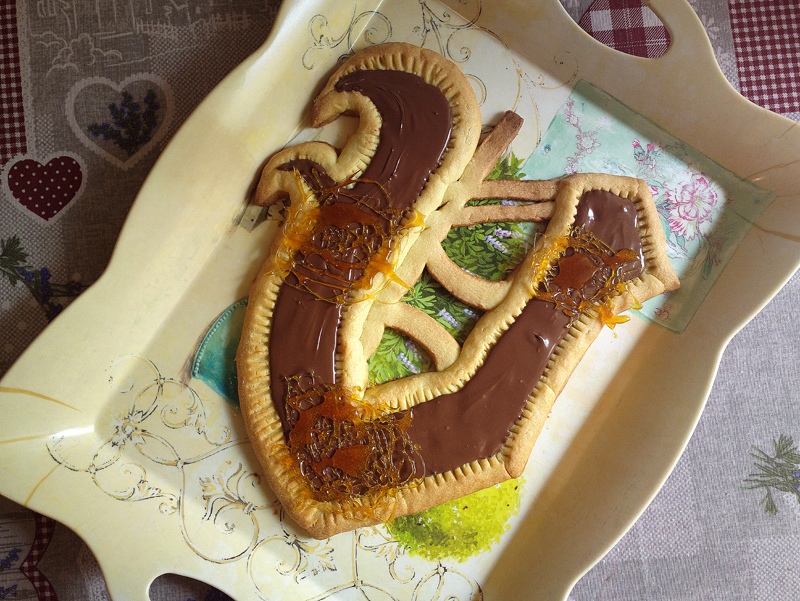 This is of course just an idea from which you can draw your ispiration, if you're not a Vintersorg fan (which is likely possible , but if you are feel free to contact me XD), you can build up your personalized letter-cake using this technique.
You just need to choose your letter, make your personal stencil in the style you prefer and get your letter shaped cake.
Perfect for a special occasion, a birthday, an anniversary.
Never too late, never the wrong place for some V-commercials. My mission in life to get people to know this wonderful polyhedric artist! XD
25 albums in less than 20 years of carreer, with 7 different groups, exploring always different styles.
I wanted to be good and choose a ballad song. But this one was perfect, speaking of galaxies and nebulas.
Ingredients  for the V-shaped cake – Vintersorg cake
For the shortcrust pastry:
500 g flour
300 g butter
200 g icing sugar (vanilla flavoured)
80 g egg yolks
a pinch of salt
 lemon zest
Nutella for the filling (about 400 g)
How-to:
In a kitchen machine (with a leaf/shield/k beater) put butter with sugar and mix for about 2-3 minutes. Then add salt and lemon zest, eggs and flour.
When the ingredients start to compact, stop the kitchen machine and move the dough on a surface covered in flour. Shape it like a ball, then press a little bit, cover with a plastic wrap and put it in the frigde for about 30 minutes.
At this point, when the pastry is cold, take it out of the fridge, dusk a baking sheet, and using a rolling pin, press it down, until you get a pastry about 5 mm thick.
I drawed the picture before and cutted it using small scissors.
I placed the stencil on the pastry and using a very sharped knife I cutted the pastry following the stencil's lines, trying to be more neat I could.
Then I removed the stencil and adjusted the lines that needed to be fixed a little bit.
With the remaining pastry I did some small rolls and put them all around the border, being really accurate to follow the shape of the V.
Then I pressed the inner border of the rolls using the prongs of a fork, so the rolls can join perfectly with the base.
So I riddled with holes all the base, so it doesn't rise during the baking (exception made for the central decoration).
Move carefully the cake from the woking surface to a big baking plate, together with the baking sheet.
Put inside a preheated oven (180° C) for about 25 minutes, the pastry should have a golden colour. You should check the pastry after the first 10 minutes, and then every 5 minutes and turn the baking plate of 90 degrees each time.
This cake is really delicate, and needs a lot of care during the baking, because it's full of details, some big, and some small, if you leave it in the same position, the little details will get burned, while the base will remain raw.
When cooked let it cool down. Move the cake to a serving tray when it's still a little warm, it will help you to not break the cake (the cake will be still a little bit elastic).
Take the baking paper with both hands and place it on the tray, with a gentle but determined move. Then remove it gently from below the cake, pulling it slowly.
Now you can fill you cake with Nutella.
Nutella is really hard to spread and you will never get a perfect smooth surface. The only thing you can do is heat it with the microwave, 400 W for 20/30 seconds, until it gets more fluid. Don't heat it too much or it will get ruined.
Then using a tea spoon spread it on the cake, carefully, trying to cover all the base and not the borders.
Prepare some caramelized sugar decorations of your liking and put them over the cake.
Con questa ricetta partecipo al contest di Ricami di pastafrolla: "Il tuo piatto Rock":