CLICCARE QUI PER LA RICETTA IN ITALIANO
I know, I have tons of brownies recipes in my blog (english translations will come, sooner or later) but I can't resist!!!
brownies are amongst my favourite cakes!
this brownie cake takes inspiration from this Milka chocolate bar:
I bought two bars about six months ago. I ate one of them in 3 evenings, then assaulted from guilt i promised myself I would use the other one to make a cake, so  I put it into a closet and forgot about it for half a year.
yesterday it came to light again, and it was going to expire, so I decided to make a brownie cake.
this wonderful bar is made from 5 layers. yes, you read it right! 5 layers!!!
milk chocolate, white chocolate, toffee, hazelnuts and milk chocolate again. 2 centimeters thick, half meter long. 300 gramms of lightness.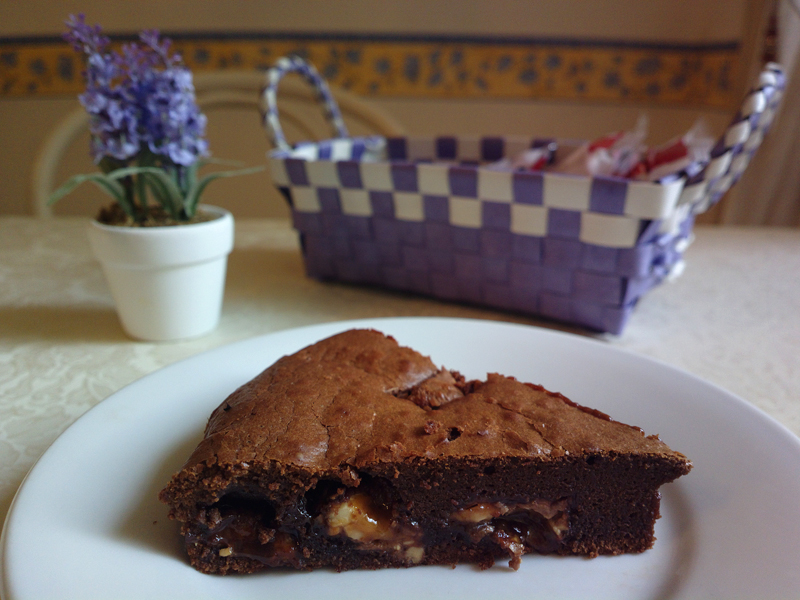 I did a normal brownies recipe (i mean one of my "light, buttery" recipes) and added the bar in the dough, cut into pieces.
the result is, as you can see from the photos, a brownie cake with melted chocolate and toffee inlays inside.
I really liked it, hope you will too!

Ingredients for the Milka brownie cake with toffee and hazelnuts :
200 g dark chocolate
180 g butter
200 g brown sugar (Muscovado)
4 eggs
120 g plain flour
vanilla
How-to:
In the microwave melt the butter and the dark chocolate, carefully, using a low temperature and the 30-seconds tecnique. Let them cool.
Beat the eggs together with sugar, until they are pale and foamy.  Add the melted chocolate slowly, still whipping.
Then add the flour and the vanilla (i usually use it in powder and mix it with flour, if you use fresh vanilla or an extract you can add to the eggs together with chocolate.). Don't  mix too much after adding the flour or the brownies will come out gummy because of the gluten.
Cut the milka chocolate bar into pieces, following the lines and add it inside the brownies, leaving about 5-6 pieces for the cake's surface.
Put the dough inside a round baking tray (about 28 cm) , covered with baking paper, and place the tray inside a preheated oven (180° C) for about 25/30 minutes (cooking time depends on the oven).
The cake should have a crunchy surface and a creamy inside.