A different kind of sauce. This pasta is cooked in the wine, the tannins color the noodles with beautiful hues of ruby reds.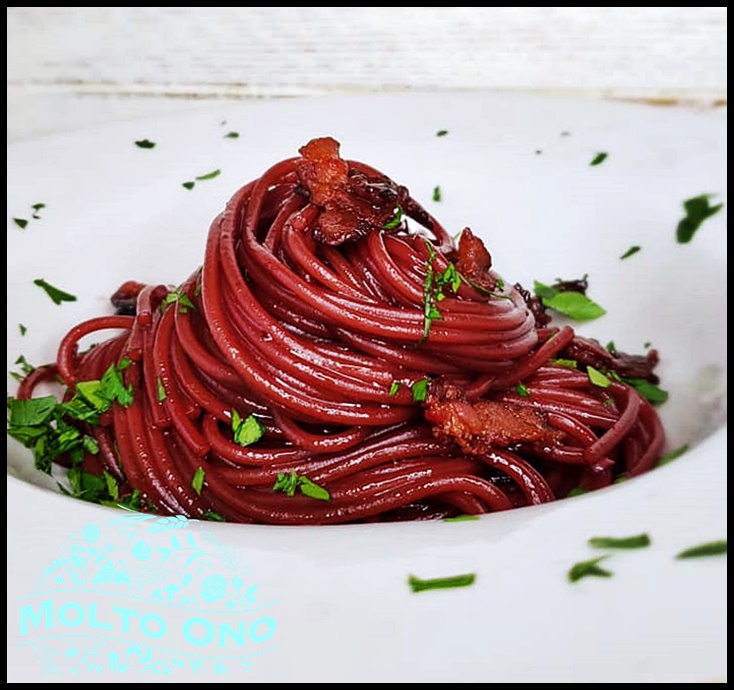 The alcohol evaporates during the reduction of the wine, so don't worry. You won't get tipsy.
In my home region, since we eat a lot of pork and its derivates, we use pancetta in the sauce. Here in America I found out that uncured thick bacon does the trick.
So, grab some good, thick Spaghetti and get ready to cheer up your table for the holidays .
DRUNKEN SPAGHETTI
Serves 4
1 lb Thick Spaghetti such as Nbr 12 (Barilla or DeCecco are the one you can find in mainstream grocery stores)
3 cloves of fresh Garlic, minced
2 T Olive Oil
4 slices of bacon or pancetta chopped  (about 3/4 C)
1 750 ml Bottle of red wine (Nero D'Avola, Primitivo, or for a sweeter note Porto)
2 T cold butter
Chicken Bouillon powder if needed.
Chili, Pecorino cheese and Parsley to garnish

DIRECTIONS:
Place a large pot with water to boil. Meanwhile, in a large sauce pan, place the oil and minced garlic. Fry until fragrant. Add  the wine and let it reduce over medium heat. Add a pinch of salt.
When the water boils, salt it (should taste like the ocean~yes, taste it!!)
Cook the pasta for about 4 minutes.
In the mean time crisp the bacon or pancetta in another skillet.
After 4 minutes, using tongs, transfer the pasta into the simmering wine. Cook and stir the crispy Pancetta or Bacon in with its rendered fat ( It's  like if you were making risotto)  until the pasta has absorbed the wine and is cooked perfectly. (Al dente)
If the pasta absorbs all the wine and gets dry, add some pasta water.
Taste the pasta. If it needs more "action" add about 1/4 to 1/2 t of  chicken buillon.
Remove the pan from the heat, add the cold butter a little piece at a time. Stir vigorously until butter is melted with the residual heat, and the pasta is shiny. (Cold Emulsion)
Let rest 2 minutes while you chop the parsley.
Plate and garnish with parsley and parmesan and chili flakes if you like.
Serve and eat at once.
Enjoy!