CLICCARE QUI PER LA RICETTA IN ITALIANO
Tiramisu is an Italian classic.
It's probably the most famous Italian cake in the world. Because of course mascarpone cheese is damn good!
Probably it's not so easy to find abroad, and likely quite expensive, but when you will try this cake, you will not regret about your efforts to find it.
The name "Tiramisu" litterally means "pick/lift me up" because the legend says it has aphrodiasiac powers. I honestly doubt it ahaha but of course it's a very energizing cake!
I prepared these nice single-serving Tiramisu-s because my mother often teaches cooking classes for foreign people who want to learn both Italian language and cooking 😛
There's a famous language school near our hotel, they teach foreigners language of course, and we take care of the cooking part!
Tiramisu is a very fast and easy recipe. It doesn't need to be cooked, just stored in the frigde.
If I have to compare Tiramisu to a famous English dessert i would say "trifle", even if the flavour and method is totally different.
You just need to be careful with mascarpone, because it's a very delicate cheese, so it should remain in the frigde for all the preparing time. Just take it out when you need it and then put the cake again in the fridge when it's done.
Be sure to use nice cups to prepare this dessert, like this country-chic small cups. You can also use transparent cups so you can see the layers when Tiramisu is finished.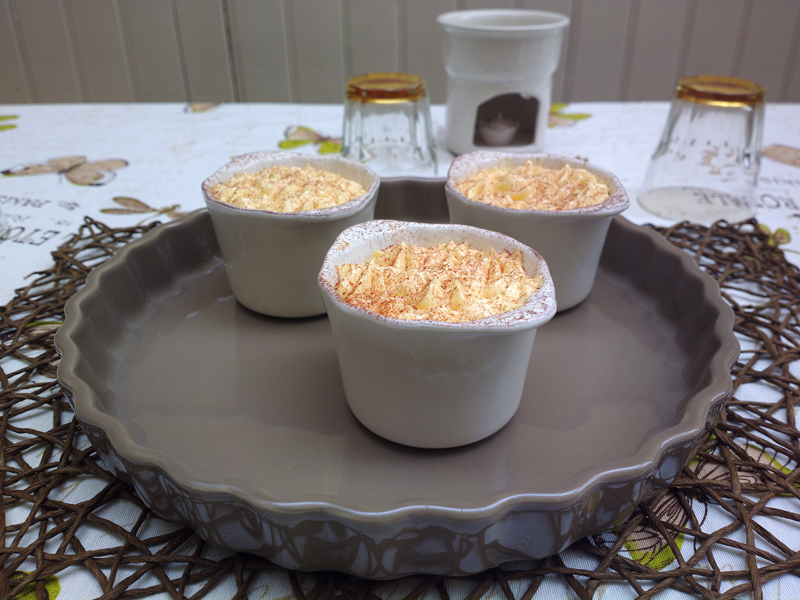 Ingredients for 4 Single portion Tiramisu in country cups:
3 eggs
100/120 g sugar (it depends of how sweet you like cakes) + 1 spoons extra
250 g mascarpone cheese

2 coffe cups (italian cups)

cocoa powder
8 savoiardi (finger biscuits)
How to:
Beat eggs until stiff with sugar. They should become pale and foamy and increase fourfold their volume.
In a dish press and stir mascarpone cheese with a fork, then add it to eggs, and mix slowly with a whisk.
Then make two expresso coffees (or a moka), pour the coffees inside a soup plate and add the extra sugar spoon you find in the ingredients' list.  Let the coffee cool a little bit.
Take savoiardi (finger biscuits) and try them on the base of the cups. You have to cover all the base surface, so prepare enough biscuits to cover it, already cutted in half or pieces to fill all the holes (you have to do this before, because when they are wet it's impossible).
Plunge briefly the biscuits inside the coffee and place them on the base of the cups.
Add two spoons of mascarpone cream then again a biscuits' layer.
To make the cake look cuter you can take a sac-a-poche with a starry nozzle and use it for the final layer, like i did (just see the photos).
Use some cocoa powder to cover the surface, let it fall on the cake through a sieve.
You will get 4 single-serving Tiramisu cups with this dose.