CLICCARE QUI PER LA RICETTA IN ITALIANO
I prepared the decorated Nutella mini tarts for my boyfriend's birthday.
He loves Nutella! He loves dragons!
So I decided to combine these two things together.
I made 4 decorated tarts, to be sure he had a little bit of assortment. I made two tarts with lovely heart shapes and one with a reindeer, but guess what?
He chose the dragon, needless to say!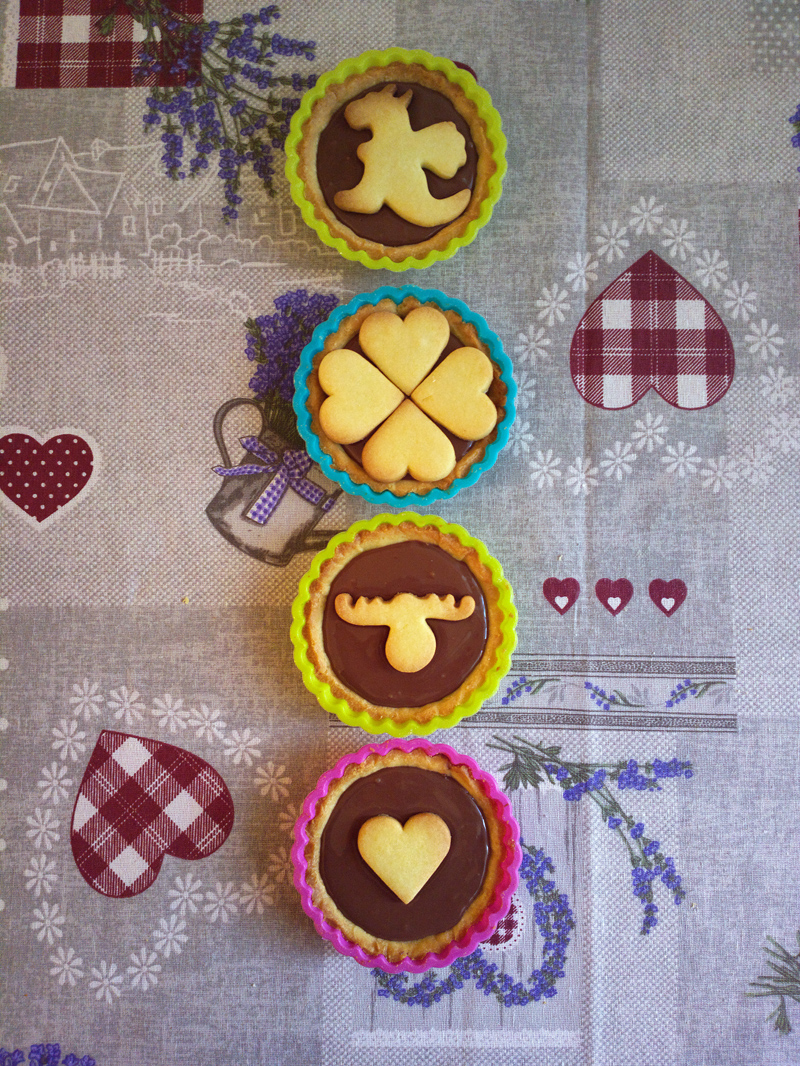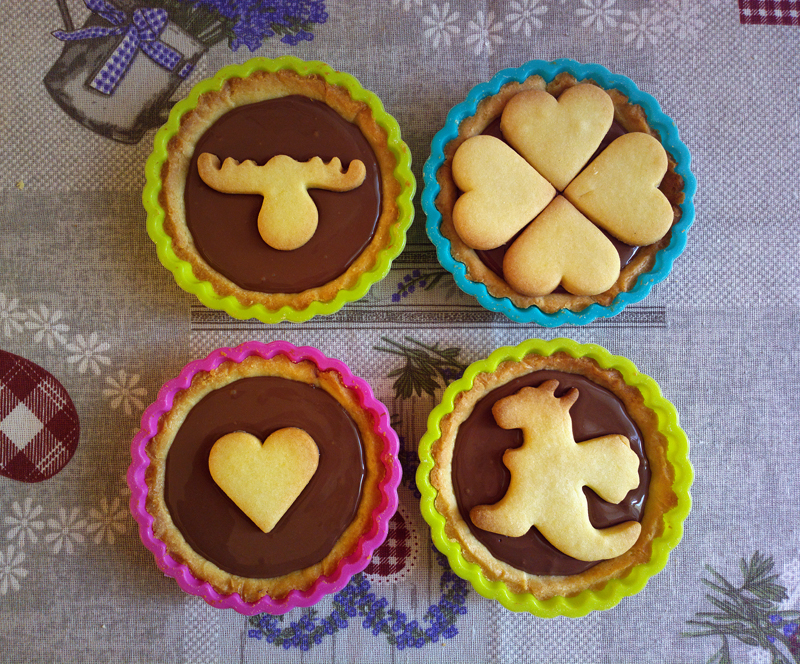 I made the reindeer tart for me. Honestly there are two teories about this cutter, someone says is an elk, someone an octopus (if you look it upside down).
Was that possible that with my "obsession" with reindeers I wanted to see a reindeer where there were no reindeers at all? 😛
Anyway reindeer, elk or octupus this cutter is really cute!
But the best one is of course the "mighty" dragon XD
These decorated Nutella mini tarts are really easy to do. You just need to prepare a shortcrust pastry and do a blind baking, then cook some shaped biscuits to decorate the tart and finally fill it with Nutella. 3 simple steps for an amazing result.
Let's start cooking!
Ingredients  for 4 Decorated Nutella mini tarts
For the shortcrust pastry:
250 g flour
150 g butter
100 g icing sugar (vanilla flavoured)
40 g egg yolks
a pinch of salt
 lemon zest
Nutella for the filling (about 400 g)
How-to:
In a kitchen machine (with a leaf/shield/k beater) put butter with sugar and mix for about 2-3 minutes. Then add salt and lemon zest, eggs and flour.
When the ingredients start to compact, stop the kitchen machine and move the dough on a surface covered in flour. Shape it like a ball, then press a little bit, cover with a plastic wrap and put it in the frigde for about 30 minutes.
At this point, when the pastry is cold, take it out of the fridge, dusk the work surface, and using a rolling pin, press it down, until you get a pastry about 3-4 mm thick.
Take your tart moulds, put them over the pastry and cut it so it fits with the moulds' circumference ( photo n°1). I used 10 cms silicone moulds. I also greased them because I think it's better.
Put the pastry inside the moulds and cut the surplus (photo n°2). Put in the fridge for about 15 minutes.
With the remaining pastry, using you favourite cookie cutters, create some funny and cute shapes and place them on a baking paper (photo n°3).
I did 4 tarts, but with this pastry-dose you can easily obtain 5 tarts.
Now you have to cook the tarts, using the blind technique.
Take some baking paper, put it gently over the tarts, and fill it with beans or chickpeas (photo n°4)
Put inside a preheated oven, 180° C.
I cooked the tarts for 20 minutes with beans and 5 without.
I baked the cookies for about 20 minutes, but cooking time depends on the oven (photo n°5)
Let them cool and then fill the tarts with Nutella.
To make it easier, just warm up Nutella a little bit, using a microwave (400 W for about 15-30 seconds) so it will be become more liquid.
When you have filled the tarts place the shaped biscuits on the Nutella surface.