CLICCARE QUI PER LA RICETTA IN ITALIANO
I made the cathedral shaped cake for my best friend's birthday.
I wanted to do something different, and I'm not a cake-design's fan. So decorated cakes were not an option.
I had this fantastic cake mould by Silikomart which is an italian factory specialized in silicone moulds, but you can easily find something similar by Nordic ware (even if in aluminun or some kind of metal).
It has the shape of a cathedral,  a really weird shape for a cake, but i like weird stuff!
So i did this cake, with a quite normal buttery dough ( I already tried this before to know if it fitted with the mould), then added mixed berries to it.
And a little magic happened…also helped by luck.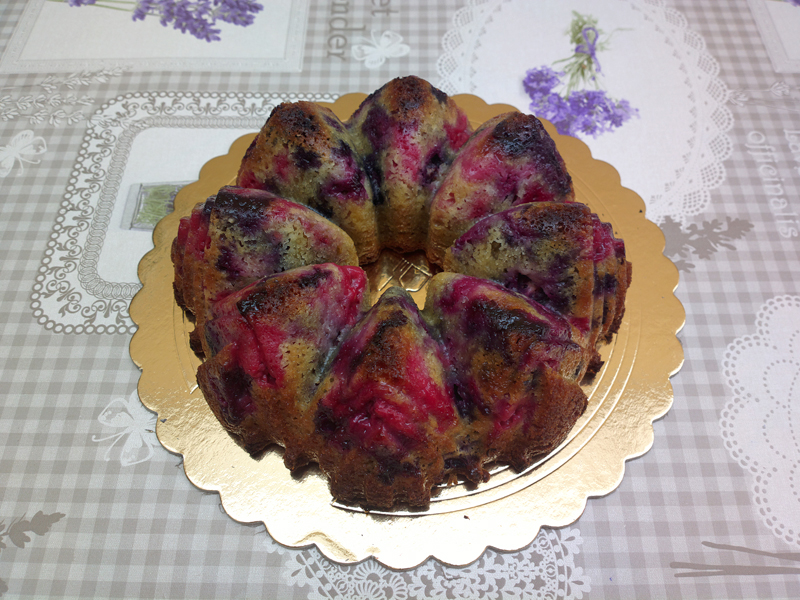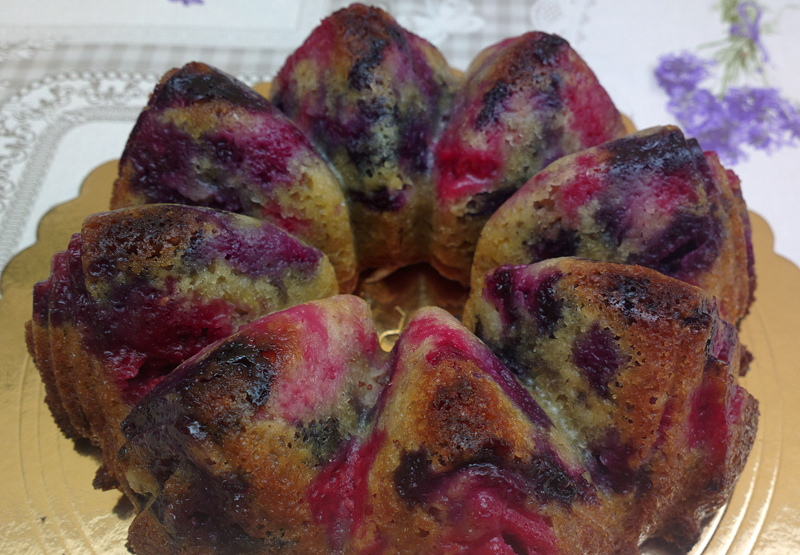 The chance wanted that the mixed berries were so sour that i had to cut them in two and add some sugar. It was this little trick that turned the cake into something fantastic and spectacular.
The berries thanks to gravity force did sink in the dough and when I turned the cake upside down they were shining on the surface, in all their splendour.
The sugar I added did candy them, so they were lucid, bright and full of colours.
The cathedral cake looked like a multicolored painting. I did whisper "ohhhhh" when I pulled it out the mould.
Ingredients for the Cathedral shaped cake with multicolor top (8 servings):
200 g flour
200 g cane sugar
180 g butter
3 eggs
50 ml milk
16 g baking powder
2 lemons
150 g raspberries
150 g blueberries
1 spoon of caster sugar
How-to:
Beat the butter with the cane sugar until you get a soft cream. Add the eggs, one by one, still beating.
Grate two lemons inside the dough (be sure to grate only the yellow part of the lemon, which is the aromatic part).
Mix the flour and the baking powder together, then add them slowly to the mixture.
Put the milk inside the dough, just remember that it must remain quite solid.
In a bowl cut the raspberries and the blueberries in a half and add 1 spoon of caster sugar. Mix really carefully to not smash them.
Put the mixed berries inside the dough and stir gently.
Place the mixture inside the mould (I usually grease it with butter even if they recommend to not grease silicons moulds. I think it's easier to pull out the cake)
Cook for about 45/50 minutes at a temperature of 180° C, cooking time depends on the oven and on the mould. Silicone moulds takes a longer time to cook if compared to metallic ones (and usually leave the cake moister) .
Wait for the cake to be warm to turn it upside down.