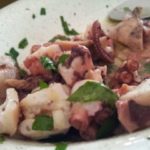 Octopus antipasto: All around the Mediterranean you will find marinated octopus being served up as an antipasto. Now you can recreate your experience of this enjoying octopus on Ponza, with this recipe.
Ingredients:
1 large Octopus (at least 500 grams / 1 lb), cleaned
A good handful of fresh Italian parsley, chopped
Extra virgin olive oil
1/4 cup (60 ml) white wine vinegar or lemon juice
1 clove Garlic, finely chopped
Salt
Put the octopus in a large saucepan and cover with cold water.
Bring to the boil and cook over a medium heat for up to 1 hour or until it is tender enough for a fork to run through it (like potatoes).
Once cooked, turn off the heat and allow it to cool in the water – this is the secret to it being tender.
Drain and cut into bite size pieces.
Marinade in the lemon juice with the garlic for up to 2 hours turning at least once.
Add the parsley and enough olive oil to cover.
When you are ready to serve, adjust the seasoning .
Serve as an antipasto.