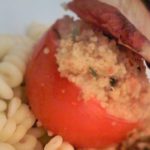 It's really convenient cooking with things that you can find around the kitchen. Having a box of couscous in the house for these baked tomatoes with couscous and pine nuts, made a family meal go much more smoothly. But what is a pasta maker doing with a box of supermarket couscous in the cupboard! Well, we thought the same thing too and so set upon a journey to discover how to make it.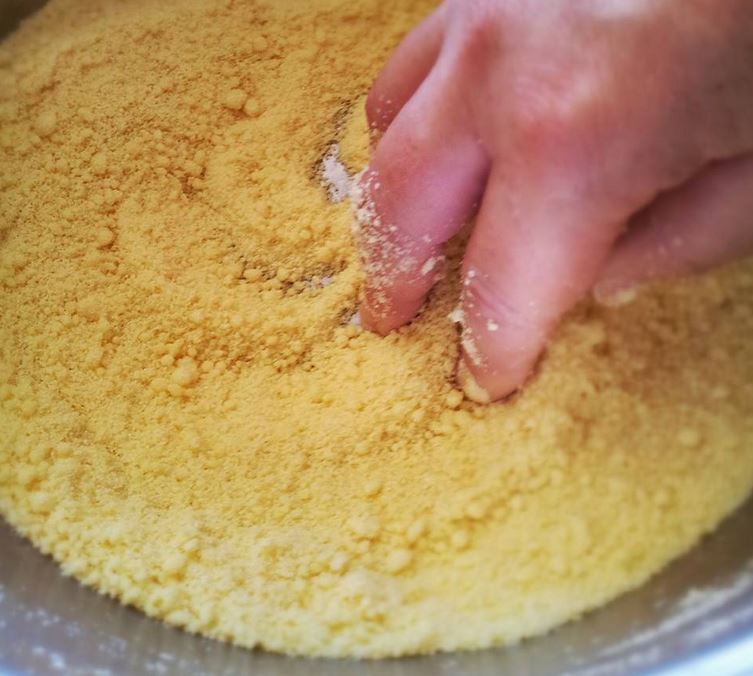 Yes, once upon a time we decided that making our own couscous was a really good idea. The idea being that at least we will learn exactly how it is made and be able to speak with a little expertise on the subject. Making couscous is a long process but actually we are here to tell you that it is better than the dried stuff you buy at the supermarket.
We had spent all day learning how to create couscous and wanted to show it off as best wec could, while trying not to use too much of it. Ahhhh …. after all that rubbing, an opportunity to stop our hands from stinging!
Serve as an accompaniment or as a stand-alone dish because these baked tomatoes with couscous and pine nuts are truly tasty and simple to put together. Have you got the oven on?? Then let's get stuffing!

Baked tomatoes with couscous and pine nuts for 4
5 cm fresh root ginger, peeled and finely grated
2 cloves garlic, finely chopped
150 ml /1/4 pint water
100 grams / 4 oz couscous
3 tablespoons extra virgin olive oil
50 gram / 2 oz pine nuts
1 heaped teaspoon paprika
50 grams / 2 oz dried apricots, roughly chopped
Juice and zest of 1 medium lemon
1 handful fresh mint leaves
4 large tomatoes, stalks on
150 ml / 1/4 pint tomato (pizza style) sauce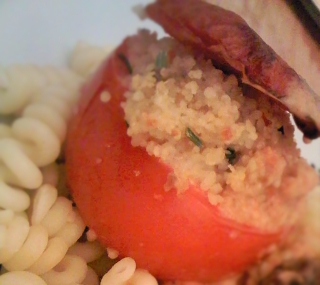 Preheat the oven to 170 C / 340 F
Place the ginger and garlic into a small saucepan
Add the water and bring to the boil
Remove the pan from the heat and stir in the cous cous and olive oil
Cover and leave for 3 – 5 minutes for the couscous to absorb the water
Add the paprika, pine nuts, apricots, lemon zest and juice and mint
Mix well and season with salt and pepper to taste
Cut off the tops of the tomatoes and reserve
Scoop out the seeds and fill the cavities with the couscous
Place the tomato lids back on and stand the tomatoes in a deep oven dish
Pour the sauce around the tomatoes and bake for 25 – 30 minutes or until the tomatoes are softened