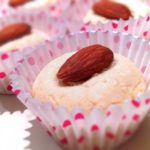 The perfect, gluten free Amaretti cookie: We hunted all over the place to find the recipe for a perfectly gluten free, Italian cookie and found it! Amaretti cookie bites are simply referred to as 'amaretti' in Italian. We imagine with all the gluten the Italians consume over the course of a day, they decided to created a recipe that would give their digestive systems a bit of a break.
Recipes for Amaretti vary throughout Italy.  In Sardinia almond paste is used in many different pastries. There,  Amaretti are known as 'Sospiri' and are made with sweet almonds and lemon rind. In Lazio, the area of Rome, Amaretti are made using bitter almonds and are typically offered during the Christmas holiday.
Our recipe contains only a 6 ingredients. The hidden ingredient, is patience!

Ingredients for 80 and 90 Amaretti cookie bites
3 large eggs, separated

300 grams powdered sugar
500 grams almond flour
1 tablespoon salt
1 tablespoon pure almond extract
80 – 90 whole almonds for decorating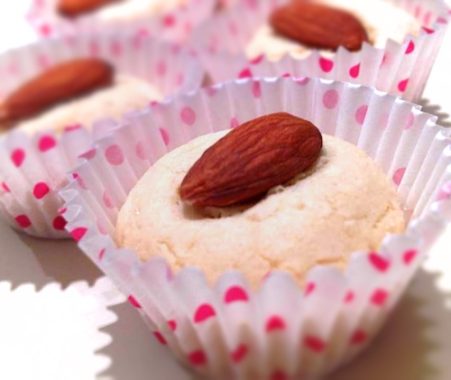 Preheat the oven to 300 F/ 150 C.
Place the 3 egg whites in a large mixing bowl (round-bottomed if possible because it helps mixing the egg whites to the right consistency much quicker).
Add the salt and whisk the eggs on a medium speed until foamy, then add the almond extract.
While still whisking, gradually add the sugar in a steady stream and whisk until the mixture is stiff and 'glossy'.
Carefully fold in the almond flour until all the flour is combined to form a soft, lightly sticky batter.
Arrange mini cake holders on a baking tray.
Measure 1/2 teaspoons of batter, roll into small balls using powdered sugar to avoid the batter sticking too much, placing each ball into a cake holder.
Gently press a whole almond in the centre of each Amaretti.
Place in the centre of the oven for 15 minutes.
After 15 minutes, turn the oven down to 200 F/ 95 C and continue cooking the Amaretti for a further 15 minutes.
Remove and allow to cool completely before storing them in an airtight container for up to 1 week.