Pasta with clams and broccoli is areally tasty dish although the combination clams and broccoli may seem unusual but the cream of broccoli enhances the taste of the clams. For this recipe, I chose to use the "orecchiette" that better collect the seasoning but you can also use spaghetti or any other shape of pasta. The recipe is very easy and tasty.
Pasta with clams and broccoli, easy recipe, for a good lunch or dinner.
For the recipe in italian click here (versione in italiano)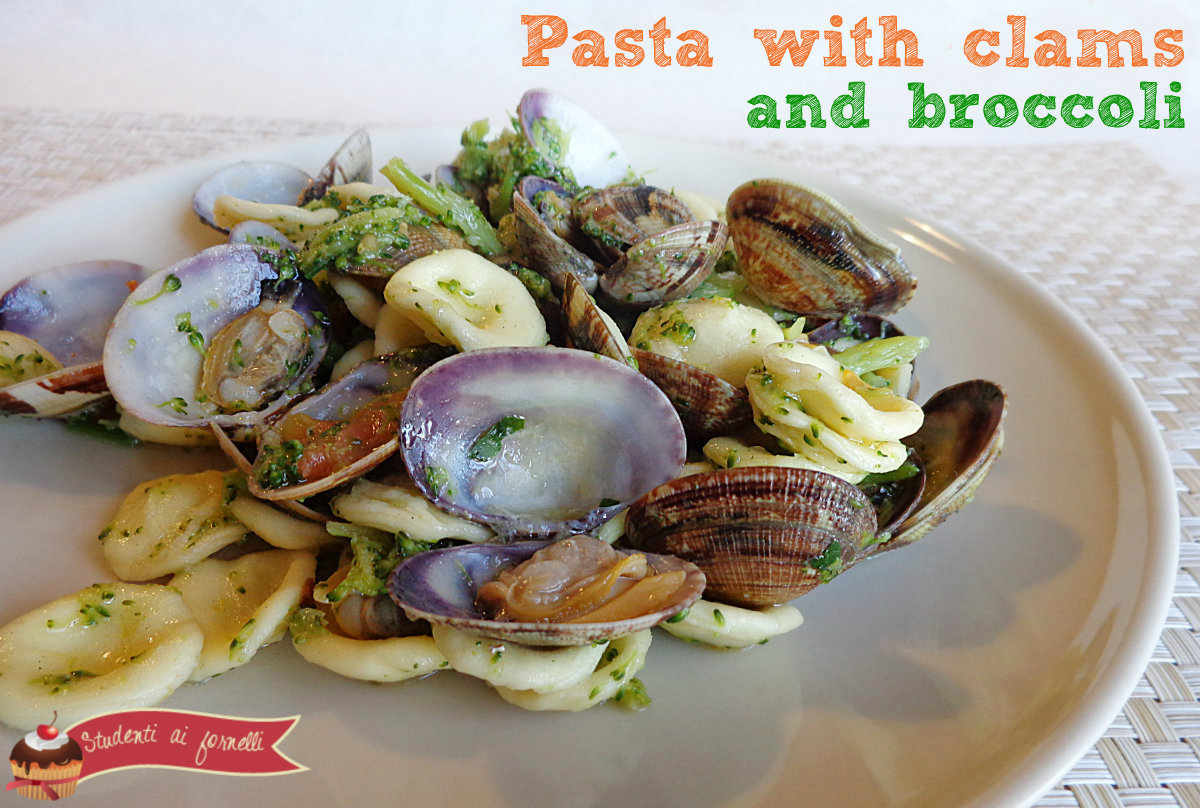 Pasta with clams and broccoli
Ingredients for 3-4 people
350 g of orecchiette (or pasta, spaghetti)

400 g broccoli

600 g clams

2 cloves of garlic

7-8 tomatoes (the cherry ones)

red pepper

fresh parsley

extra virgin olive oil

salt
Recipe: Pasta with clams and broccoli
Preparation
I suggest you to buy clams the day when you have to cook them or at most the day before. Wash the clams and place them in a clear glass bowl covered with water and add a handful of salt. With the hand shake them for some minutes in order to remove the sand, and left them for an hour and a half or two hours in order to let it soak. If you buy them the day before, after being held to soak you'll have to close them ( like a gift package ) in a wet and wrung cloth and keep them in the refrigerator till when you'll use them. After having drained tha clams, put them in a colander and wash under running water. In a non-stick pan, heat 2 tablespoons extra virgin olive oil with the garlic's clove and red pepper, when it is hot with the help of a lid, add the clams and cover them. All of them should open up, if not, discard the ones which are still closed. Add the fresh parsley and cherry tomatoes cut into quarters and cook for few minutes. In the meanwhile, in a pot filled up of water, put the broccoli with salt and boil them. When thay are cooked, in a non-stick pan add broccoli, the olive oil and a clove of garlic, so pan-fry them and then reduce broccoli in cream by using a mixer. Add them together with clams and mesh. Cook the orecchiette and keep few tablespoons of cooking water that you are going to add to the seasoning. pan-fry the pasta with clams and broccoli and taste it.
Serve pasta with clams anc broccoli immediately.
Pasta with clams and broccoli, a very good italian recipe.
If you like my recipes come to my fan page on Facebook! 🙂 click LIKE to be always in contact with me and to ask any questions about the recipes.
Here there are my accounts GooglePlus and Twitter. Waiting for you, and if you taste my recipes let me know it.