Stuffed eggplant greek recipe, stuffed with ground veal, tomatoes and bechamel sauce, a traditional dish  of Greek cuisine. A delicious and tasty main course, which is usually prepared frying the eggplant.  I baked them on the grill, after brushing with olive oil. This way the eggplant is lighter, but tasty too.
Stuffed eggplant greek recipe
Difficulty:

medium

 Prep time:

10 minutes + 30 minutes

Cook:

60-80 minutes



Serves:

 2

 Cost:

 low
Ingredients
[su_divider top="no" style="double" divider_color="#c96115″ link_color="#c96115″ size="3″ margin="10″]
2 eggplants
240 g  ground veal
4-5 tablespoons olive oil
1/2 onion
400 g  peeled tomatoes
2 tablespoons grated Parmesan cheese
2 tablespoons breadcrumbs
oregano or thyme
cinnamon
1/4 cup white wine
salt, pepper
for the bechamel sauce
25 g butter

25 g flour

250 g milk
Instructions
[su_divider top="no" style="double" divider_color="#c96115″ link_color="#c96115″ size="3″ margin="10″]
Remove the ends of the eggplant, wash and cut in two, following the length.
Eliminate some of the flesh of the eggplant, removing it with a corer or, if you do not have one, with a teaspoon.
Salt the eggplant and let rest for 30 minutes.
Brush the eggplant with olive oil, place in a baking dish and put in preheated oven at 180° C (356° F), mode fan grill for 30-40 minutes, depending on size.
According to the classic recipe, we friy the eggplant  in olive oil, but cooking them on the grill the dish is lighter.
Meanwhile, pour the olive oil in a saucepan, heat slightly and saute the onion, finely chopped.
Add the ground veal and cook, stirring to avoid forming of lumps , for 10-15 minutes, until the meat is slightly browned.
Pour in the saucepan the wine and let evaporate , over high heat.
Chop the tomatoes and add to ground beef.
Add salt and pepper, some thyme or oregano and a piece of cinnamon and cook, over medium heat, with the pan semi covered, for 30 to 40 minutes.
If, at the end of cooking, the sauce is still liquid, add the breadcrumbs and stir. I added 2 tablespoons of bread crumbs.
Add a tablespoon of grated Parmesan cheese in the sauce and mix well.
Prepare the bechamel,  melting the butter in a saucepan, over low heat. Add flour and stir until it is absorbed.
Pour  the milk, at room temperature or slightly heated if it was in the fridge. Cook, stirring, until sauce has thickened.
When the sauce is ready, stir in 1 tablespoon of grated Parmesan cheese.
When the eggplants are ready, fill them with the meat sauce and cover with bechamel.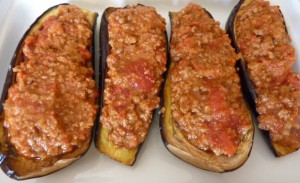 Sprinkle with grated Parmesan cheese and breadcrumbs.
Bake in a preheated oven, at 180 °C (356° F), for 30 minutes, until bechamel sauce is golden brown.
Your stuffed eggplant is ready to be enjoyed!
Note
Doses are refered to the dish served as a main dish. If you want to serve it as a side dish, reduce the dose.
For more advices on the preparation of bechamel sauce you can read the article. You will also find the version of the sauce without butter, tasty and light!
More ideas
For a different taste, you can use half grated Parmesan cheese and half pecorino.
Follow me on facebook too, to see the recipes I propose every day and the new recipes published by my blog!