Salisbury Steak: an American classic. Salisbury steak is a fancy hamburger. It is named after James Henry Salisbury (1823-1905…so why not call it Hamburger? Its name caught on partly because World War I inspired a movement in English-speaking nations to avoid German-sounding terms such as "hamburger".
Fun Fact: Dr Salisbury believed humans were meant to eat meat, and sought to limit vegetables, fruit, starches, and fats to one-third of the diet. The Salisbury steak, his means of achieving this goal, is ground beef flavored with onion and seasoning and then deep-fried or boiled and covered with gravy or brown sauce. It was introduced in 1888. Salisbury saw beef as an excellent defense against many different physical problems. He suggested that Salisbury steak should be eaten three times a day, with much hot water to cleanse the digestive system. He was an early American proponent of a low-carbohydrate diet for weight loss, and he promoted his diet for that purpose. His diet became known as the "Salisbury diet". It has been described as an early example of a fad diet.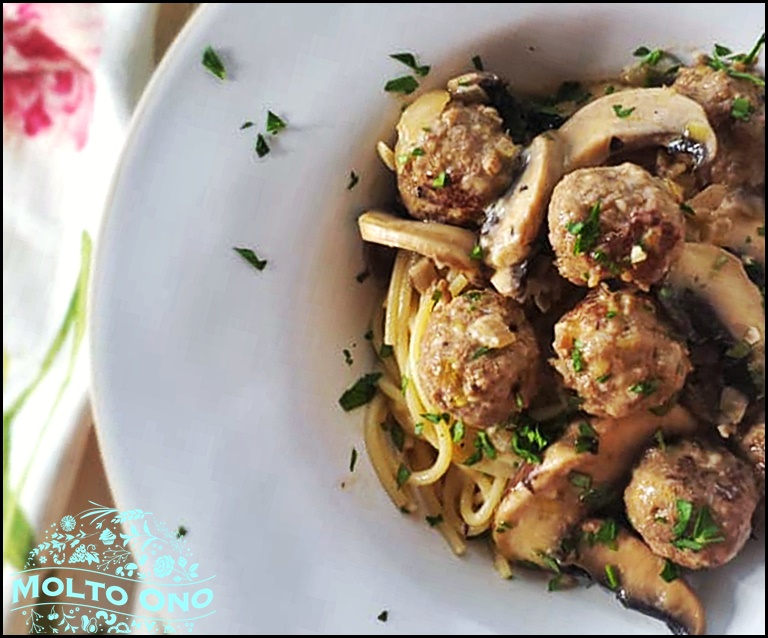 So I thought this dish could be more aligned with the Mediterranean Diet, and I must say it does taste amazing!!
I didn't fry the meat, but you could.
I added spaghetti, but egg noodles would be fabulous, too.
So, gather the ingredients, this dish comes together in 30 minutes!

SALISBURY MEATBALLS
serves 4
1 lb ground beef (still cold, 80/20%)
2 T minced dry onion
3 T panko
1 T ketchup
1/2  T mustard
1 T Worcestershire
1 t Bouillon powder
FOR THE SAUCE:
4 oz Mushrooms sliced (I used Portabella)
2 T butter
2 Garlic cloves, minced
1/2 onion, diced
1 T Worcestershire
1 T ketchup
1 T flour
1 C beef stock
1/4 C White wine
1/4 C heavy cream
1/2 Lb Large Spaghetti
1/3 C minced Parsley
DIRECTIONS:
For the meatballs: mix all ingredients with the meat still chilled (so its fat won't start melting) I don't use salt, but beef bouillon instead.  Shape small meatballs about 2 T each, and place them in a not oiled skillet on med low heat. Cover with lid.
While the meatballs are cooking, put a large pot of water to boil.
After a few minutes, uncover and there should be juice from the meatballs. Keep cooking and moving them around until caramelized. Deglaze with wine, when wine is evaporated transfer the meatballs to a plate and set aside.
When the water is boiling add the salt and cook the pasta according to package directions.
On the same pan where you cooked the meatballs: add the butter and the onion. Cook a few minutes until translucent. Add the garlic and cook until fragrant one minute more. Add the Worcestershire sauce, the ketchup and the mushrooms. Cook until the mushrooms have released the water and are soft (depends on the mushroom kind and size). Add the flour and stir until fully incorporated. Add the beef broth and return the meatballs to the pan . Cook for about 3 minutes, then add the cream. Cook a few minutes more. Test for flavor. If needed add lemon juice or salt. Cover the pan and set aside.
Chop the Parsley and set aside.
When pasta is done, strain it and reserve about 1 cup of pasta water.  Toss the pasta with the sauce and meatballs, until fully coated. Dish the pasta with a few meatballs and mushroom slices. Top with sauce and parsley.
Serve and eat at once.
Enjoy!