Salve!
Mi presento, visto che questo e' il mio primo post:
Mi chiamo Rosa, e sono un'Italiana ~Umbra, per la precisione~trapiantata in Oregon, USA.
In quasi 20 anni di vita Americana, ho accumulato un bel numero di ricette "fusion". Una elaborazione della cucina Italiana, vista con occhi diversi, ingredienti nuovi, ed un palato che oramai sa' abituarsi a tutto 🙂 In questo blog troverai ricette che partono dalla tradizione del nostro BelPaese ma che si evolvono in modo innovativo. Ricerco ingredienti "progressivi" ed impensati per dare un tocco di freschezza a vecchi piatti. Spero che ti piaccia!
Grazie!
Hi there!
My name is Rosa, and I am an Italian born ~ Umbrian to be exact~ living in Oregon, USA.
In almost two decades of American Living, I have collected a great deal of recipes that I call "fusion". A personal interpretation of the Italian way of cooking I was raised with. I try to incorporate new ingredients, new techniques, and I love to experiment with new flavors. My blog has recipes that are inspired by traditional Italian dishes then evolved into something newer and fresher. I hope you'll like it!

Grazie!
Now, meet the Red Spinach!
Red Spinach looks a lot like the traditional spinach as flavor, vitamin content and texture are concerned, BUT….the color…ohhhh the color. Cardinal , big, bold, deep, rich RED color is what makes this Heirloom Spinach unique.
This variety has been introduced to the American Market around 2002, and now is widely available. If you haven't tried it, yet…go for it!
I wilted the spinach in a dab of water, drained it, and ate it just like that, with a drizzle of lemon and olive oil. However, I sure couldn't waste the juices, could I ?
Now, what to do with such vibrant colored fluid? Pasta~! is the answer.
Spinach Pasta dough.
Ingredients for enough dough to make Fettuccine for 4.
200 gr AP Flour
2 Eggs
1/4 C Spinach juices from about 2 C packed red spinach
a pinch of salt
Directions:
Place all the flour on a wooden board and with your hand create a small crater in the center, about the size of a large orange.
After you have added both eggs, sprinkle them with a little bit of salt. Then start mixing the eggs and the flour together using a folk.
with your fork beat the flour and the eggs together like so.
Then, slowly start mixing with your hands, adding a little bit of Spinach juice. The dough should not be sticky in the end, and should not require any more flour. You might not need all the juice, either.
When the dough is ready~about 10 minutes of kneading later~ cover it with a dry bowl, and let it rest for 30 minutes. If you, like me, decide to make a two tone pasta, repeat the same steps and doses but using water instead of Spinach juice.
After 30 minutes, using a pasta machine, roll the dough. I rolled it out to a #7 setting on an Atlas pasta machine.
Let the sheets of pasta dry lightly, then roll them through the Fettucine setting.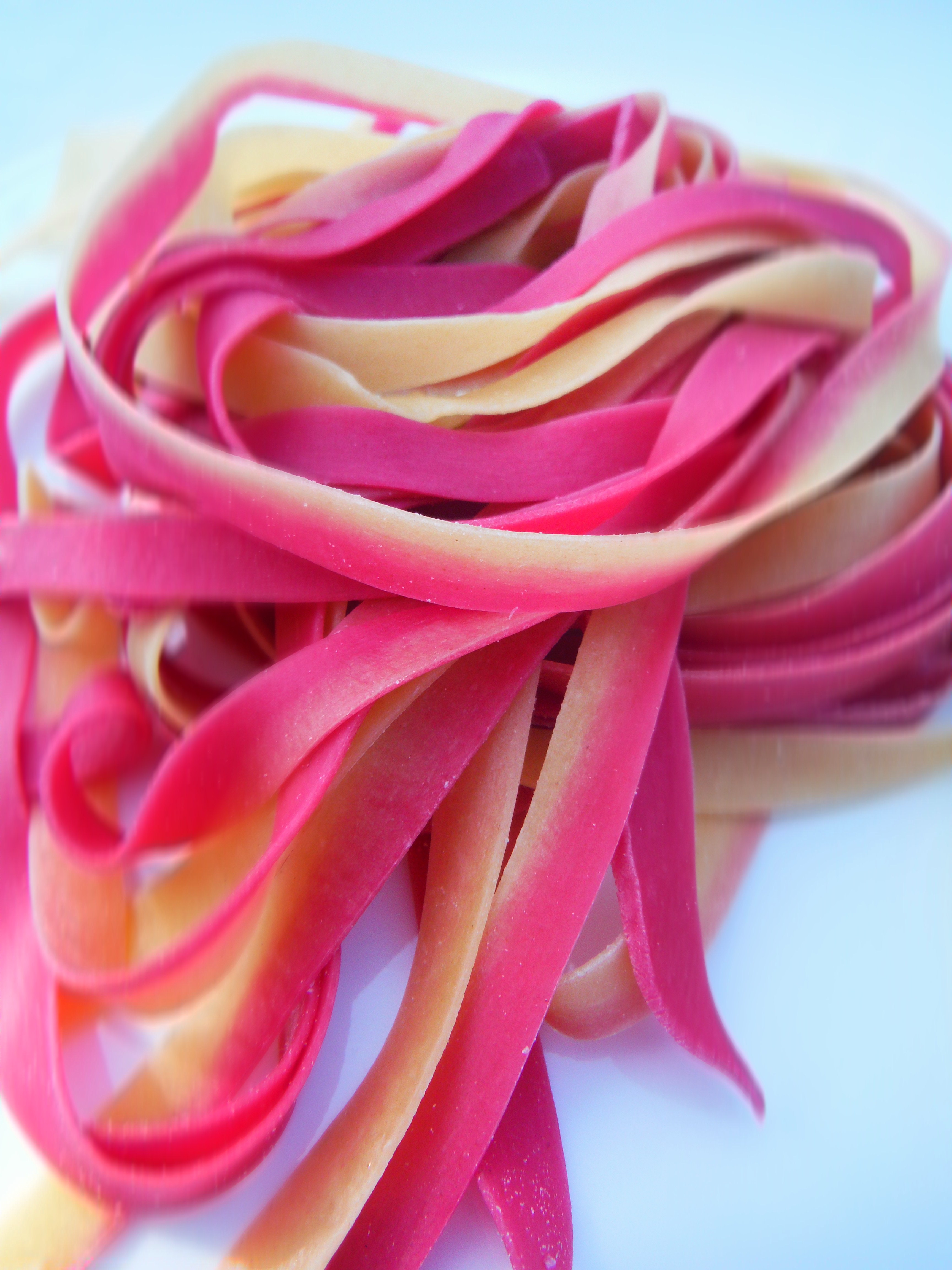 Doesn't this look like Spring? I think it does!!
If you decide to cut the pasta by hand, it's ok as well. Then you could make Pappardelle, I guess. ( wider noodles than the Fettuccine)
Now, they are ready to be dressed with just brown butter, or assembled into a cheerful lasagna.
Until next time, Mangia! and Enjoy!
Also, don't forget my Facebook Page: https://www.facebook.com/pages/Growing-up-Italian/1495225440728606
Ciao!